Mal'ing da Korner,
Bluff'ing the Long-boards..
"Sanity begins below the high tide mark."
Gringo: At 'Ol' Faithfull', 1981
In the beginning was the word and the word was the beginning… but when was the beginning? Certainly for surfing at Alex it was long before us, even before 'Slug' Kelk and gangly young McLardy dragged their dunggas down to The Korner to be parked in the dunes for the weekend, before the Wilkes generation, before O'Connor's cutting up of the Headland, before Granddad down from Kin Kin hired out the big redwood on Maroochy Beach around the end of WW1, even before our South Sea Islander mates Great-Grandparents came down to surf Alex from Buderim, even before The Dreaming, when the turtles ruled…
Our 'Mal' Chapter began when Rooster dropped off the "Headland" keys to Seaweed in '75 and the "yuk, yuk, yuk gone surfing" sign came down (for a while – the Peacocks & I hated the torture of it at our bus stop - we had to go to school! Darrell!) and the doors opened (at least on Sat morning). On the tank-stand lived two critical characters in our story: Mighty Mal & Ron. Both about 9'6''; Ron was about a 1962 "RON"; and Mighty was of course a "Hayden" about 1965-66: No one really owned them, we never really knew where they had come from: they were just part of the Simpson's "Blue Waters" establishment.
The late '70s was a heady swooping twin time of VERY short boards and HIGH performance surfing. We were very conscious of The Korner's place in surfing innovation: HK & modern materials, GG's visits, MacT… and now Jim Pollard channel'ing the shop floor and Pascoe/Hopper racking it up; BUT unlike Byron's consistency which had embraced some of our North Coast talent we had to somehow quiver our way through the vagaries of Sunshine Coast swell. You rarely saw some of the older guys anymore (Barry Bluff, Terry McLardy, Bruce McK; or HK & Johnny Walker snow'erly experimenting with skis; or Les & Doggitt doing their thing with thicker boards; or 'Bali' Bob L. with his modern long boards… or Mungo just playing his guitar): the too short boards just didn't float.
The first wave in our mal-formation set was Da Korner Kids Krew

Our flat spell relief was Ron & Mighty Mal, but it was also our frustration: we wanted motion and manoeuvrability. The dunggas were fun (although the plastic fantastic was dangerous when layed over too far) and styled us for down the line & later reef surfing BUT just too stiff and not stiffy enough to blow the back out of waves. Coach Weed, "Climb 'n drop boys, climb 'n drop": MP cutbacks & MR reo's on any, every wave was our holy grail.
A second wave was about to break ~ the air was ripe for a revolution: Seaweed was keen to cater for his born again 30ish grommet mates stoked to surf all the time instead of sinking on a fashionably correct twinnie or similar – tri's even quin's (Gracie, Stumpy, Bret M. shaping up) were about but thrusters were yet to be dreamed. Bruce L, Oz (and later Huey P and JB) were turning the screws; and Morris and Butch were plumbing the aesthetic depths of our endeavours. C'mon Johnnie ~ get it together! Enter our Bryon Brothers: gentleman Roy Miesel, Frank & Peter Spencer and through them Brian Ingam. Althrough Seaweed recalls Peter Spencer bringing up from the Bay a John Blanch shaped Modern Mal; what Seaweed felt was the first real modern mal on the newly named "Sunshine Coast": a 'San Juan' 8' in 1976 ~ 30 years ago! Johnnie had done the run regularly, supply and demand did its thing ~ Eureka!
In the beginning was the word and the word was the beginning and the word was, is, will be … mal! Sure it meant Malibu by the strict 8' definition but even more it meant a larrikin's thumb's up to over-short and over-earnest competitive surfing and even Mal(Fraser)'s surf team … BAD n'est pas! Filth hey! Not the stalwart Alex Surf Club nor the outstanding North Shore Club. "The Bluff" was to see how close you get to the end rocks [to surfing precision] according to T McL (I still get stoked if I can do a 'step-off'); for us to "Mal" was to see how close you could get to surfing's quintessence: the fall line. Indeed as Weed liked to quote it was "the art of our necessity, the essence or pleasures" or as I invoked Ted Spencer fondly and ironically (for where we went longer, he had gone shorter: for the same reason): "surfing is dancing for Krishna" (its #1 judging criteria – rhythm & style or "grace" as Gringo called it). Hence the 'unknown surfer' salute to the sun in the club emblem (with a special wave to Glen at 'G&R', Chris Gee & Lindsey Clare – Chris did tell u we raided the office art supplies?).
So we whittled away (Oz literally) on refining our longboards – really long shortboards – for me the two black n' white check boards really nailed it especially the 7'9": a perfect all rounder ironic given it was a KKK and which I 'mal'-ed into a 'shovel-nosed' 7'6" on Cartwright wall after inheriting it from Oz. And we whittled away at being surfers; solid days like Magic Wednesday and Big Thursday on the 6'2 / 6'4"; huge days at Noosa on 6'7/6'9"; dead flat days swimming or paddling RON; and the usual days, our milk n' honey days, the 8'ers. "Water, water, everywhere" ~ even back in Weed's lounge coffee'ing, workshopping meteorology ("it's the squeeze that counts, the squeeze"), debating board design and yogic stretching into the early 80's. It was happening but something needed to happen again.
A third wave was breaking ~ it was time to come out from behind the tankstand and show what we had refined. The return of Gringo energised us to take those steps and 'Headland' metamorphosed into 'Plantation', into a more defined middle "path of awareness" between soul and competition. Indeed I believe a truly 3rd way in Australian surfing: in the water ~ excellence & fun; out of it ~ attention to detail with style. 5
Where Seaweed had galvanised Mal-life locally; Gringo saw the then incipient retro movement requiring some edge to trim its section: the idiosyncratic 'gonzo soul' that our eccentric 'gentlesurfers' club had mashed into our "threading of the eye of the needle". "Those other tracks" as McCoy so eloquently portrayed in 'Blue Horizons'. Where we mal-riders had thus far asserted our local differentiated identity (we were there then!); Gringo saw a new global market position (that was tinged with vicarious nostalgia!). It's glib to say it a brilliant commercial stroke to tap, indeed create, a new market segment. However, I think, simply Gringo all Bali OM Pro'ed out was ready to see some synthesis of soul and competition that had evolved in The Korner. He put his finger on that more irreverent surfing pulse and was keen to get the message out: "Guys keep surfing, there are boards for you!" Cool ~ all surfers are brothers that's why the T-shirts were black… a salute to Da Black Shorts: our real elders. We had no idea how popular, just how big this would become, that an avalanche would fall from our small stony throw.
A fourth wave rippled from that stone. We had been happening but it was time to have a "Happening". We gathered in Plantation Parade for the first time NOT to 'wax up, take the drop, 'n pull in'; but to organise as a de facto association (Ross Head, the usual Plantation suspects, someone I've forgotten and Roy C scathingly sceptical that Modern Mals were a real innovation: "you'll *#&! the Bluff with crowds"). I noted (from interviewing HK at school a few years before for the Daily) that next year was the 21st anniversary of fibreglass and foam – coming of age, keys to the door etc! To think this year is 45 years and think of all those other stories made possible by glass & foam ~ Bonza! HK! We'd better plan a big one for the 50th. Back to '82 & apparently 20 years was good enough and 2 beers later we were cheering "Roots"! That weekend is another whole volume of stories: board scarifices, Balinese offerings, the flags, the funtest, The Stomp!… Aaaamazzing what a bunch of gonzo surfers can do when a few crews pull together…
I've left out a lot of names in this brief ; 7 but I'll run off a roll call some time. I've missed out a lot of war stories about organising the first funtest and the stomp ~ "The Roots Experience"; but I'll spin you a yarn in a lull (although a special thanks to that guy for not charging Dugong & I over the bamboo flag poles). I've not even told you about the genesis of our rallying emblem, but I'll give the you the jen if a flat spell leaves me free.
Although the memory seems OK after the tracks that have surfed me ~ sorry if I've forgotten anyone (it was a blur, a haze, for weeks before and after); I'll get you in the long version. I've mentioned a lot of names because ours was really a communal push to define our own Surfing Identity: indeed to surf our mal waves with the appropriate equipment and manoeuvres and to push out those "inner most limits". It wasn't just Seaweed presiding, Gringo directing and me executing, …: it was a community of bronzed Aussie surfers effortlessly but purposefully pushing those limits on short and long boards: mal-surfers!
Life Members :

Barry Coulter Life Member | Paul Anderson Foundation Member | Noela Coulter Life Member | Mike Vaisnys Life Member | John Bourke Foundation Member | Kevin Annetts Life Member / President | Tony Willett Life Member | Hayden Kenny Club Patron | John Tregear Foundation Member | Oz Bonutto Foundation Member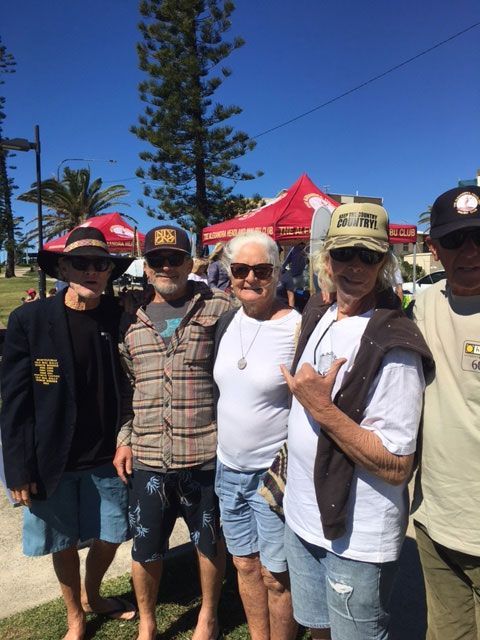 Barry alias " Croc " - Life Member Alex Mal Club
I was born on the 29th May 1944 in Brisbane and our family moved up to Mooloolaba in 1946. We were one of three houses on Buderim Avenue for a long time. It was a short walk down through the bush to the surf and I started surfing in 1959 on an old hollow Plywood Surfboard which was about 9 ft 6 in long. Mainly surfed the Corner at Alex and the Spit area. No transport so had to carry the board where ever you wanted to go. Bought a new surfboard in 1962 . It was a " Gull " surfboard which was made by Ray Woosley in Brisbane and sold by an agent who had a small shop in Mooloolaba at the time and it cost me 30 pounds which is about $60 dollars in today's money. I started competing in 1984 and stopped competing in 2015. My involvement in Alex Mal Club started in 1985 and I became President in 1986. Was Contest Director for a year and Gear Steward for several years. Did several Regional Titles, Queensland Titles and competed in five Aussie Titles . Won two and was runner up in three. Really enjoyed competing at the Gold Coast, Byron Bay and Noosa. I ride Single fin 9ft 6 inch boards and enjoy escaping from the ever increasing crowds up to PNG twice a year since 2003 . Met Noela around 1964 and we married in 27th May 1967. As we are in our Seventies now we are still active and have great joy in surfing with our Sons, Grandsons and Grand Daughter. Instant crowd.....
We both love being involved with the Alex Mal Club and help out as much as we can. It's wonderful to see the younger ones taking over the reins as it should be for the sake of the future of the club
Noela Coulter - Life Member Alex Mal Club
I was born in Brisbane on the 11th June 1948. My Father decided to move to Buderim when I was 10 years old and started his own business . He was the first Plasterer on the coast at the time and made all the beautiful ornate ceilings, plaster wall sheets and ceilings in his factory at the top of Buderim opposite Dixon Road. We lived on a Banana Plantation , now called Coolum View Tce and my brother and I had horses to ride to school. I was 14 years old and somehow was allowed to go to the movies to Maroochydore and saw the movie ( Gidget ). Well that changed my life entirely.
I went home and told my Dad I wanted to go surfing.
Money being always tight, I had to sell my two horses and dad put away money when he could to buy me a second hand 10 ft Gordon and Woods surfboard and so it began. The only trouble was getting down the Mountain to get to the beach. He liked to sleep in on the weekends or was busy working but I had really nice friends who were a little older than me and they would borrow their father's cars and off we would go. Jimmy Woodriff and Barry Ashby were my taxi to the beach more often than not. We had no leg ropes, no wetsuits and were excellent swimmers. We surfed the Corner at Alex. Pipes, which is at the end of Aerodrome Road. Surfed Point Cartwright before the Seawall was put in and it was a great little wave which quite often went right through to the bay. We did the trek to Noosa and it was considered crowded if there was 6 people out in the break !! I met Barry my Husband when I was about 16 years old and we were married in 1967. We had three lovely boys and I gave up surfing for 15 years to concentrate on the family and also help Barry who had started his own plumbing business. During that time I missed the whole Short board Generation and when I eventually went back to work I found that long boards were making a comeback so I bought an 8 ft surf board and started all over again. At the age of 37 I found my passion again and have never stopped. My only claim to fame is winning a Paddle Race down the Maroochydore River when I was about 15. Alexandra Malibu Club hosted the Australian Titles in 1986 and I came third in the finals. I also came third in the finals of the Malfunction in 1996 at Snapper which was a challenge. My earlier days were peppered with wonderful mentors like Hayden Kenny and Bob Cooper . I have great memories of surfing with all the guys and they looked after me like a little sister. Today at 72, I have four 9ft surfboards and the best thing about surfing now is that I do it with my Sons, Grandsons and my Grand Daughter. Life is sweet.